(BUY 2 Save $9.99) Planetary Sky Bracelet
Description
The Best Bracelet For Space Enthusiast?

Fascinated by the outer space?
If you and/or your loved ones are one of the astronomy geeks, then you shouldn't miss this opportunity to express your love of outer space and/or for your loved ones.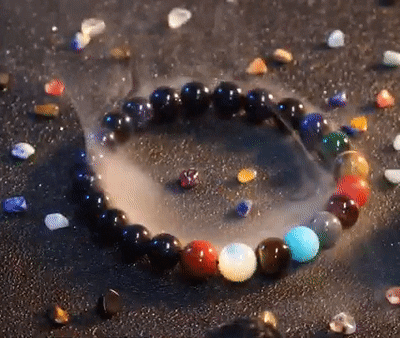 The Eleven Planets of the Solar System
Inspired by the planets of the solar system, Planetary Sky Bracelet is made of high quality natural stones to model the breathtaking universe that will have you mesmerized. Each unique planet is represented by different gorgeous natural stones with different colors. 
Natural Stones that corresponding to the 11 planets:
Mercury: Shell Stone

Venus: Yellow Tiger Eye

Earth: Amazonite Stone

Mars: Red Tiger Eye

Jupiter: Banded Agate

Saturn: Picasso Stone

Uranus: Green Tiger Eye

Neptune: Blue Tiger Eye

Sun: Redstone

Moon: Spectrolite

Pluto: Black Agate
The rest of the small beads are made of blue sand stones, representing various asteriods in the solar system. 
A Magnet For Positive Energy

The design of the bracelet is like having your own solar system orbiting around your wrist, making you as the Sun with all the planets orbiting around you.
With the natural flow of energy from these natural sources, you can attract positive energy to raise your vibrations, bringing in more peace, success, and harmony into your life. 
Ideal Gifts For Whom You Cherished

Wondering what kinds of Valentine gifts to get for your lover?
The bracelet is specially designed according to the wrist size of women and men. It is not only perfect as a gift for your family members and friends, but also for your lover to build a spiritual connection!
Specifications:
Type: Beaded Bracelet
Material: Natural Stones
Weight: 15g
Size: 6mm+8mm (women), 8mm+10mm (men)
Package Includes:
1 x Planetary Sky Bracelet 
Notes:
1. Due to different monitor and light effect, there might be a slight difference in color between the actual item and item shown in the pictures.
2. There might be a minor deviation in the length due to manual measurement.
Reviews (0)
Only logged in customers who have purchased this product may leave a review.
Related products