Description
Keep your cats hydrated even you're not at home!
For all the fur parents out there, you know how much your fur babies love to drink in the faucet. This is where our cat water fountain does the hard work for you.
Your cat will love clean and fresh water anytime! Most importantly you'll have a healthy and happy fur baby!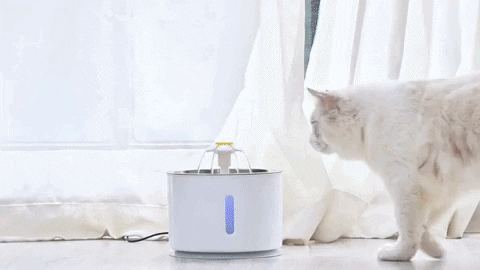 Many cats show signs of dehydration because they don't like drinking from small bowls. Fur parents might have noticed their cats' love of flowing water. That's why they love to drink on the faucet while the water is running.

We all know that fur parents spoil their cats by letting them drink tap water. But did you know this is bad for your cats? In a study, they found a high presence of limescale and other elements that could harm your cats.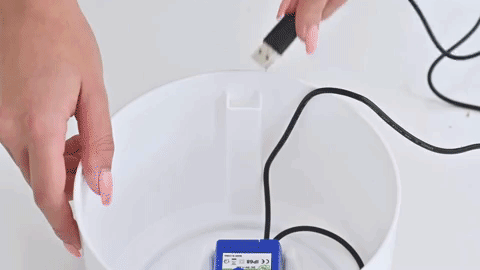 Quiet Pump Technology – This cat water fountain is equipped with a uniquely designed blue pump that doesn't make any noise.

Automatic Switch –  It automatically shuts down when the water level is low.

Large Capacity –  You can fill it up with water up to 81oz / 2.4 Liters. There's also a water level indicator where you can see if you need to refill it.

Smart Filter System – Because of its advanced filtration technology feature, you will only change the water only once a week. It also has 1 or 5 Activated Charcoal Filter, which makes the water as clean as possible.

LED Light – You can turn it on at night for easier visibility.

Ideal For Small Dogs Too – This isn't just for cats for other fur babies like small dogs too. 
Product Specifications
Power: 1.5W
Weight: 0.6-0.9kg
Capacity: 2.4L/80 Oz
Size: 188*188*149mm
Power supply: DC 5V 1A
Material: PP resin + Stainless Steel
Recommended pet type: cats and medium/small dogs
Package Includes
1x Flower
1x Foam Filter
1x Carbon Filter
1x Instruction Manual
1x Stainless Multi-Pet Fountain
1x Fountain Pump with USB Charging Port
Reviews (0)
Only logged in customers who have purchased this product may leave a review.