Fence Decoration Nosy Old Man and Lady Garden Yard Art
Description
"Hey, what happened next door?" Just asked Pete-the ultimate nosy neighbor. Peekin'Pete saw everything with his high-performance binoculars!
Make your neighbors smile! Keep 2 sets of eyes on the neighborhood!
This cute couple looks over your fence to keep track of everything in the neighborhood!👵👴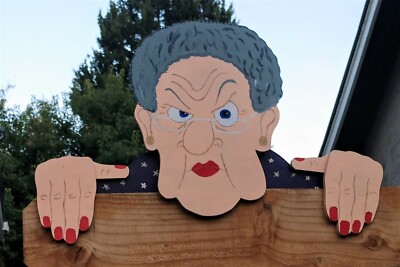 😎You can also install an attachable webcam here on the eyes, and then you will find a lot of fun things. 📸
Hair, eye, and mustache colors can be personalized.
The decorative fence spy is handmade, made of pvc, and coated with outdoor paint/polyurethane paint to protect it from weather and rain.
It is very suitable for installation in a fence or garden between you and your neighbors. Even if there is no fence, it can be installed on the front door or window. Or add a camera to observe the outside world at all times!
They each measure:
Elbow to Elbow 11.8″ across and the head is 7.87″ tall x3.93″ wide.
Binoculars are PVC.
Designed to be screwed to the back of your fence to show over the top.
Additional information
| | |
| --- | --- |
| Buy 2 Free Shipping | chy Old Lady, Grumpy Old Man, Grumpy Old Man & Grouchy Old Lady, MAN, MAN&WOMAN, WOMAN |
Reviews (0)
Only logged in customers who have purchased this product may leave a review.
Related products