Professional Grafting Pruner Tool
Description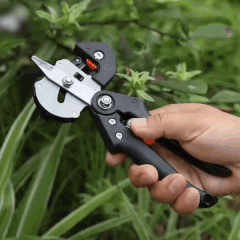 The Grafting is made easy with the Professional Grafting Pruner Tool,  with its 2 in 1 application of Pruning and Grafting, it saves you a lot of time. It does a great job of pruning shears. Now it's just a cakewalk for pruning tomato plants or rose pruning.
The Professional Grafting Pruner Tool has 3 different replaceable grafting cutting blades which provide a precise and clean cut. So you can do tree grafting or grafting plants very easily.
Any green hands of grafting can use this Professional Grafting Pruner Tool easily with a couple of steps. First, it allows you to trim away excess leaves and twigs and to prepare the plants to be grafted. Second, you can then make a precise cut into the grafting stock with the special grafting guillotine. The cuts of two planks of wood will fit together perfectly for maximum cambium contact. Then cover it with the grafting tape thus significantly improving the survival rate.
The tool is Made of chrome-plated carbon steel which is rust-resistant and pretty sturdy. The rubber comfort handle is non-slip it helps in increasing the speed of the finishing.
Save Your Time and Efforts with the Professional Grafting Pruner Tool !!
Specifications:
✓ Material:chrome-plated carbon steel, ABS and Rubber
✓ Size: 21.5 cm/ 8.4 in
✓ The thickness of the trimming blades: 3 mm
Package Includes:
✓ 1 x Professional Grafting Pruner Tool
✓ 3 x Grafting Blades
✓ 1 x Grafting Tape
Reviews (0)
Only logged in customers who have purchased this product may leave a review.
Related products