U Shape Trigger Point Massage Roller
Description
Featuring 4 independent rollers, you'll be able to effectively target all your stubborn fat pockets.Tone your calves and thighs with by breaking down fats and cellulite in those areas.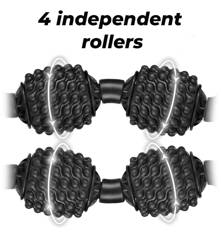 Cellulite is thought to arise when the fibrous bands of connective tissue (fascia) that anchor the skin to muscles break down, allowing fat cells to push up into the skin layer. This creates the uneven, bumpy texture that gives cellulite its cottage cheese-like appearance.
Enhanced blood flow and increased lymphatic drainage  help to reduce the appearance of cellulite. The idea is that increasing circulation to the area strengthens fascia and prevents fat cells from pushing through to cause more dimpling.
The anti-cellulite massage stimulates the deep layers of the skin and the muscle, encouraging the flow of oxygenated blood to the area, which provides the nutrients necessary to improve the condition of your skin, as well as helping the lymphatic system to remove any toxins and excess fluid.
Reviews (0)
Only logged in customers who have purchased this product may leave a review.
Related products