Description
FLYING A DRONE HAS NEVER BEEN SO MUCH FUN!
High-tech
sensing flying UFO
toy looks like it comes from space. Our kid drones can be suspended in the air, also it can fly in all directions according to inductive sensors. The colorful LED lights alternately flash in the flight, which is
more vivid and interesting
. You can fly it easily and play with your kids.
The UFO Drone is capable of 360 degrees rotation during flight and can hover easily in mid-air, thanks to its built-in gyroscope and 4 powerful motors! With 2 speed modes to choose from, you can select the appropriate flying speed relative to the amount of space it has to maneuver around!
Equipped with rechargeable lithium batteries that can be conveniently charged using USB, the UFO Drone can be flown both indoors and outdoors! It also comes with LED lights that make it an awesome sight to behold at night!A perfect gift for kids, yourself, or for the UFO lovers you know!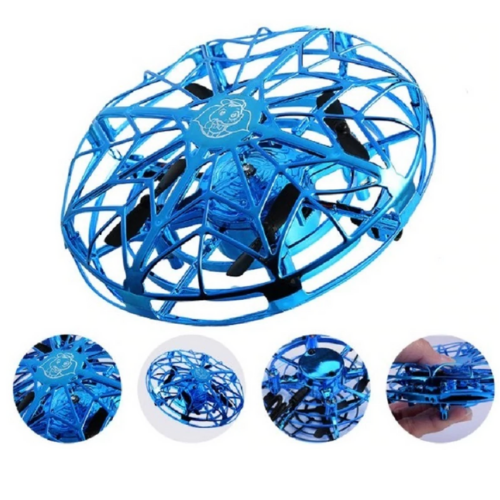 FEATURES
Easy to play with
Intelligent automatic obstacle avoidance.
Gesture control flight, no remote control.
360 stunt rotation, more interesting flight experience.
Inverted stop flight, humanized safety protection.
USB smart charging.
LIGHT AND EASY TO CONTROL
GREAT ENTERTAINMENT FOR EVERYONE!
Long flight time of around 40 minutes in a single charge, it is one of the longest flying drones in the market!
A great stress-buster, fly it in your room, office, dorm, or just anywhere you want!
Excellent toy for family bonding activities, you'll have tons of fun passing it around with just the movement of your hands!
HOW THE UFO DRONE WORKS
Press and hold the black ON/OFF switch button at the bottom for two seconds until the top light starts flashing. Then press switch to select speed – green light for normal and blue light for high.
Throw it upward gently and release, the mini quadcopter will take off automatically.
Control the direction just by closing your hand to the aircraft.
Control the height just by approaching the bottom or the top of the aircraft with your hand.
Grab and flip it over to stop flying.
The battery is low voltage when the red indicator light blinks. The UFO aircraft will land automatically.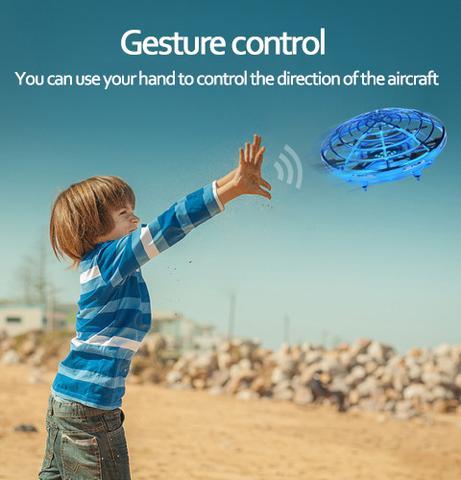 SPECIFICATIONS
Charging time: About 30 minutes.
Color: Red/ Blue/ Gold.
Size: 11 x 11 x 6cm.
Type: Sensing drone
Weight: 300g.
Detailed information:
PACKAGE INCLUDE
Reviews (0)
Only logged in customers who have purchased this product may leave a review.
Related products